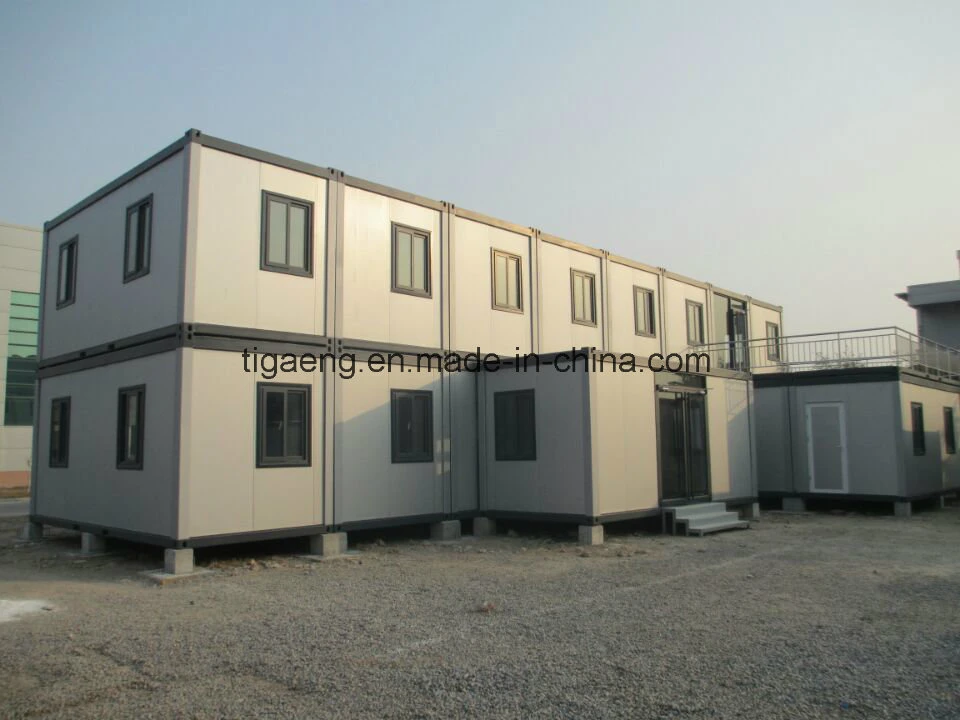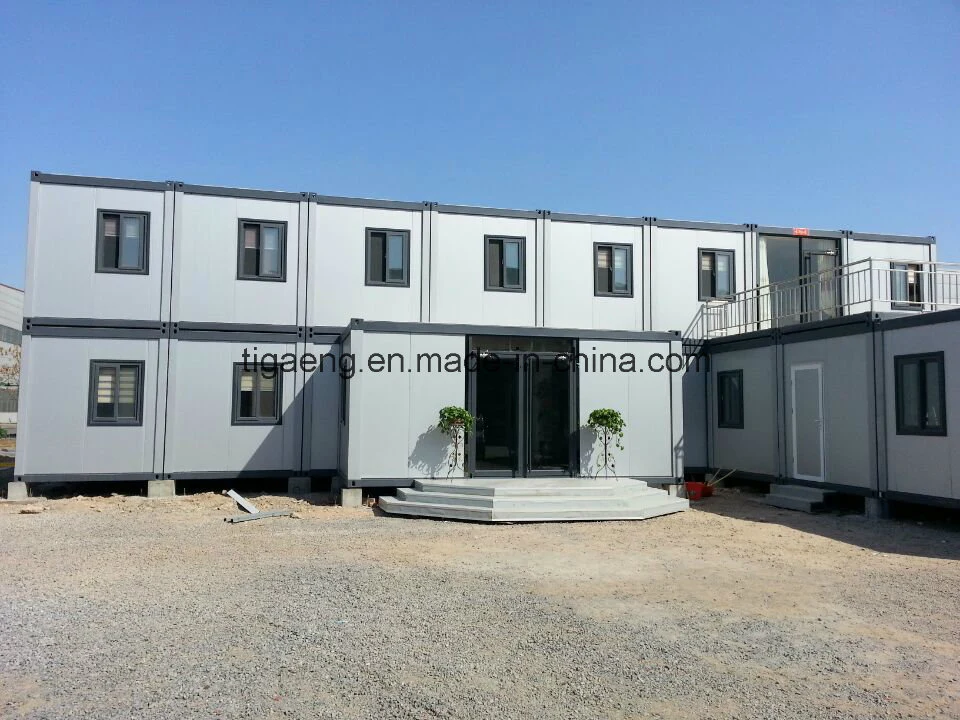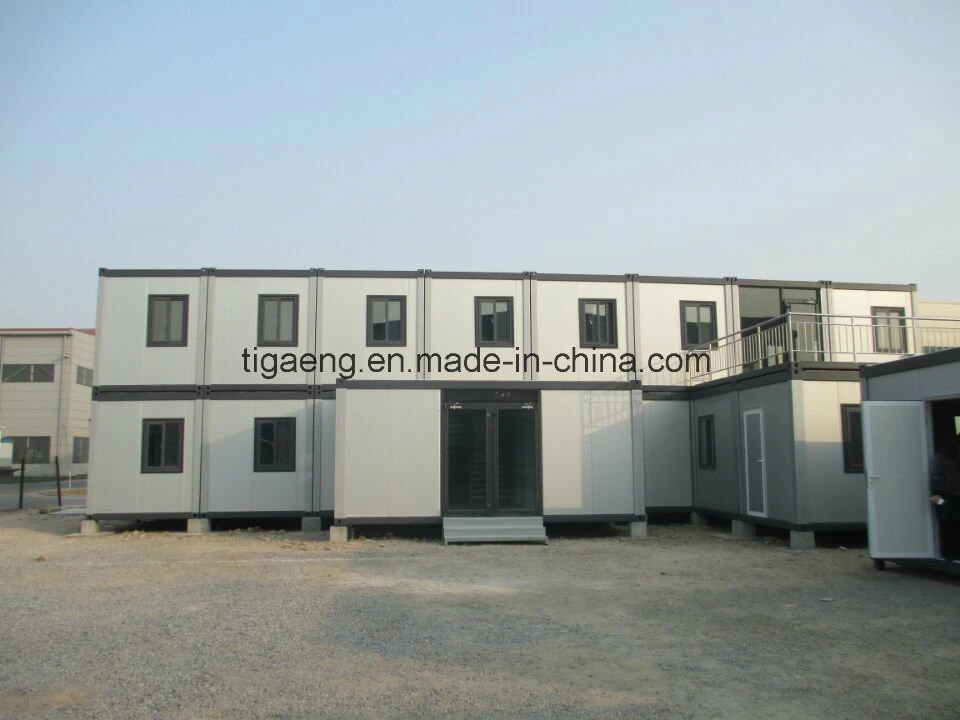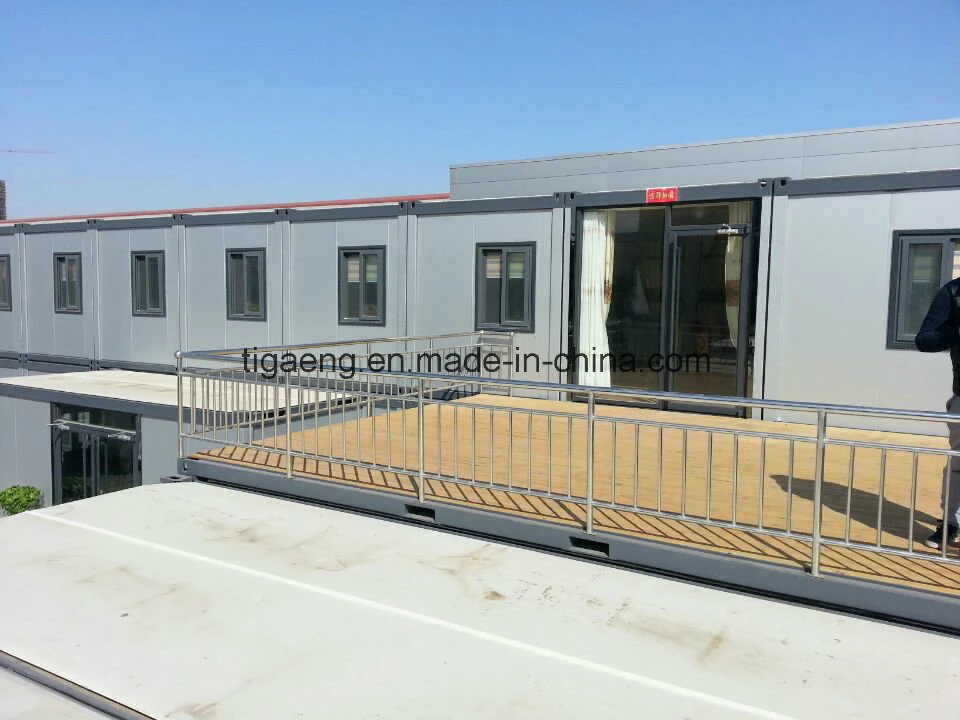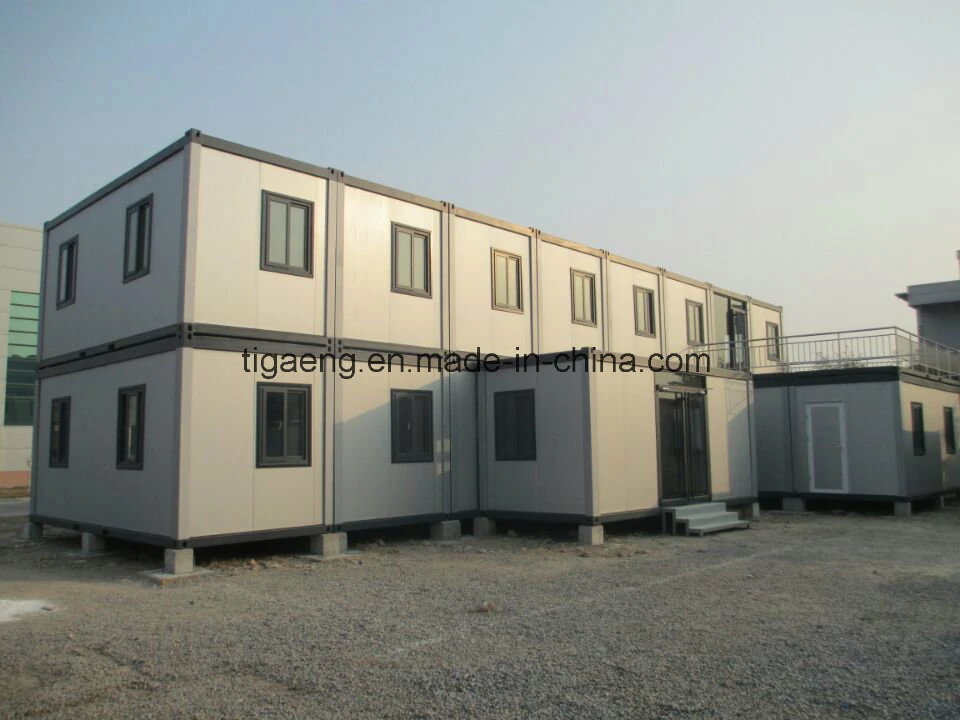 Container House is designed and developed according to the standard size of shipping container. Transportation is designed in accordance with a standard ISO shipping container. The corner casting structure enables lifting capability utilizing a crane in the same manner as a standard ISO shipping container.It is of heatproof and waterproof. It is widely used as site office, site living room, meeting room, dormitory, shop, toilet, storage, kitchen, shower room and so on. Light material without overload, easy to pack and transport. The house can be assembled and disassembled more than 6 times, and the service life is about 10-15 years.
Characteristics:
Good ability to assemble and disassemble for several times without damage.

Could be lifted, fixed and combined freely.

Heatproof and waterproof.

Cost saving and convenient transportation (Each 4 container house can be loaded in one standard container)

Service life can reach up to 10 - 15 years

We can provide the service of installation, supervision and training by extra.
Technical Parameter of standard prefabricated house:
Wind resistance: Grade 11(wind speed

≤

111.5km/h)

Earthquake resistance: Grade 7

fire proof

:

B2 grade
Dimensions and Weight:
Inner length /external length :5.81m/6.06m

Inner width /external width: 2.188m/2.438

Inner height/external height:2,410m/2.591m

Weight: 2000kg per unit
Steel framework:
Material: Light steel structure, steel material Q235

Surface working: sand blasting, epoxy basic painting 55μm thick, final vinyl acrylic painting 55μm thick

Fittings: 8 standard container corner mould fittings PVC standard rainwater pipe

Forklift openings: size 100*250mm, distance is 1200mm
Floor:
External wainscot: Flat galvanized color steel sheet, 0.4mm thickness

Floor structure: Girder made of 4mm steel. The purlin is square tube dimension 60x40x1.5mm.

Warm proof Insulation layer: 75mm rock wool

Floor: 15mm thick plywood panel for general room; 20mm thick cement board for WC and kitchen

1.5mm PVC floor leather for living rooms floor; 1.5mm anti-slip aluminum board for toilet floor.

Permitted loading: 2.0KN/m

2

Coefficient of thermal conductivity: K=1.1 W/ (m·K)
Ceiling:
Roof exterior layer: 1.2mm stamping steel plate,epoxy painting

Warm proof insulation filling: 75mm rock wool between wooden purlins;

Inner wainscot: 9mm MDF laminated decorative panel or 10mm glass magnesium fire-proof board

Permitted live loading: 0.5 KN/m

2

Coefficient of thermal conductivity: K=0.55 W/ (m·K)

Roof water drain: 4 PVC rainwater pipes in the corner pillars, diameter 50mm
Walls
Panel width: 1150mm; panel total thickness: 75mm

External layer: Galvanized and painted (29μm) color steel sheet 0.5mm

Internal layer: Galvanized and painted (29μm) color steel sheet 0.5mm.

Warm proof insulation filling: 75mm EPS or rock wool or 50mm PU panel

Insulation density: EPS is 12kg/ m

3

;rock wool is 120kg/ m

3

;PU is 45kg/ m

3

Permitted loading: 0.6KN/m

2

Coefficient of thermal conductivity: K=0.442 W/ (m·K)
Door:
External door: sandwich panel door with opening dimension 850*2100mm, furnished with a cylinder lock with 3keys. Doorframe is made of aluminum, 50mm thick EPS insulation foam.
Windows:
Window material: PVC, white color, dimension 1130*1000mm, glass thickness: 3mm, aluminum alloy edge cover, sliding window with fly screen.

Or PVC windows with rolling shutter.
| | |
| --- | --- |
| Frame of roof and tottom | C beam and square tube |
| Roof | Color-steel Sandwich Panel (EPS 50mm) PS: customers can choose other sandwich panel material. |
| Wall | Color-steel Sandwich Panel (EPS 50mm) PS: customers can choose other sandwich panel material. |
| Door Frame | steel sheets |
| Door | 2000mm*900mm iron security door or PVC door |
| Window | PVC Window |
| Flooring | 12-15mm plywood |
| Earthquake proofing | Grade 7 |
| Fire Proofing: | Grade 3 |
| Wind Proofing | 180km/h |
Electrical & Water system fittings
Electrical fittings option:
Voltage: 110~220V, 50~60Hz,

European standard or Chinese standard sockets (usually 3 pcs)

Switch: single control switch or double control (usually 1 pcs)

Distribution box (usually 1 pcs): with 32A breaker protector and 10A breaker protector

Double tube

fluorescent light

(usually 2 pcs)
Main Power Cables: copper core 2.5-4 mm

2

Light Cables: copper core 1.5 mm

2

All the cables with PVC or copper electric raceway
Water system fittings option:
Water drain pipe, PPR pipe, diameter 16-20mm, connection fittings are made of copper, life span over 10 years.

Exhaust fan or air exchange hole, size 250mm*250mm made of steel or PVC
Sanitary ware and cookware
Closestool: ceramic, with pipes and installation fittings

Urinal: ceramic, with pipes and installation fittings

Wash basin: ceramic, with post, faucet, pipes and installation fittings

Bath room

Bathtub: glass fiber reinforced plastics

Shower head

Shower base

Cabinets: eco-friendly materials, 15mm-18mm thickness

Work flats countertop: surell stone/stainless steel

Basin: stainless steel basin

Water pipe: PVC or stainless steel pipe
Container House Project Display: